Stump grinding is a service that should definitely be left to professionals. If you have had a tree cut down or perhaps even inherited an ugly stump when you purchased your house, help is a phone call away. Many homeowners either ignore a tree stump that may be an eyesore – or they try to get rid of it themselves. Taking on a task like this can have some consequences if not handled correctly, so why not call us to get rid of this problem for you?
For the quickest and easiest
stump grinding
Please call us today for your free consultation at 479-361-0604
Our company has extensive experience with all aspects of tree service and we are here to help you with any needs you may have: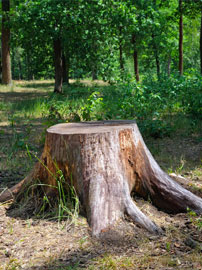 "We are licensed, bonded, and insured so we know what we are doing when it comes to your trees or shrubs. "
"We have years of experience and a huge number of satisfied customers in the area. We are locally owned and operated."
"We provide free stump grinding estimates, as well as free estimates and consultations on an array of other tree services."
You may ask, "Why should I get rid of the stump, it's not bothering anyone?" Most of the time this is not the case; a tree stump in your yard can cause a host of potential issues:
Fungus overgrowth
Parasite infestation
Safety hazards
Appearance issues
Fungus overgrowth
Unfortunately, a dead tree stump can be a home for numerous unsavory growths and fungus. The longer a tree stump sits it will begin to deteriorate and rot away. This deterioration coupled with hot or humid weather conditions can cause bacteria and types of fungus to grow within the stump and around it as well. If you hire our company to perform your stump grinding, we can eradicate the issue, so you can avoid a fungal overgrowth that may affect neighboring parts of your lawn or landscaping.
Parasite infestation
Just like with a fungus issue, foregoing stump grinding can lead to an invasion of a different kind. Dead trees not only attract unwanted plant growths, they also can be infested by a number of different parasites and insects. One big concern could be a termite infestation that may eventually find its way to your home. The simple fix for this is to give us a quick call and we can get rid of the stump quickly and at an inexpensive price.
Safety hazards
If you have a family, then that is one of the most important reasons to hire us for your stump grinding job. Children like to play outdoors and something like a dead tree stump can make your kids imaginations run wild. While your children may see it as something fun to play on, a decaying stump can cause safety hazards, with a child tripping or falling through a rotted portion of the stump. Your family should also not be exposed to the different types of potentially harmful insects that may call the stump home.
Appearance
Last, but definitely not least, a tree stump can make your yard look unattractive and unkempt. We know you have great pride of ownership in your property and by employing stump grinding you can increase the curb appeal of the home. Our experienced staff can take care of the stump quickly so you can enjoy the attractiveness of your lawn once again.
To get started with your free stump grinding estimate
Call us as soon as possible at 479-361-0604
We provide stump grinding in Springdale AR and the surrounding areas.