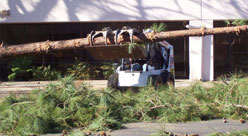 For tree removal services you can trust, you have come to the right place. At some point in many homeowners' lives, they may find themselves having to deal with some type of lawn or tree issue that they have no idea how to tackle. Our licensed tree service company can help you with these problems so you do not have to interrupt your life and take unnecessary risks trying to handle them yourself.
We are the area's leading
tree removal
specialists
Call us as soon as you can for a free estimate at 479-361-0604
Tree removal is a process that needs to be handled carefully and with expertise. Our company is the best choice to help you with that:
We have a great number of years of experience with tree removal, stump removal, and stump grinding. We make sure to complete the job on time and at the right cost to ensure customer satisfaction.
If you think that such a project is costly, you may be surprised. Just give us a quick call and we can go over the whole process with you and give you a free estimate.
We are locally owned and operated and we are also fully licensed and insured. This gives you the peace of mind that we are established in the community and we know what we are doing!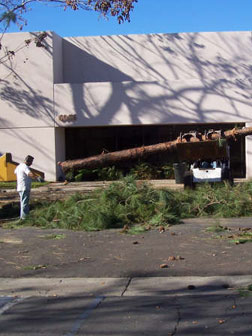 There are several issues that can arise that will create the need to have a tree removed. A big reason to tear down a tree is if the tree is overwrought with disease. This can cause safety hazards and can also make the tree harbor unwanted pests and insects. Another reason for tree removal would be if a tree has grown in a manner that is going to obstruct your home in some way if not dealt with. The tree could be tilting towards your home or a neighbor's home or it could be already hanging too close to your roof or other structure. A leaning tree is a great candidate for tree removal if it is in danger of falling down completely.
Another reason to employ our services is if a tree has been damaged due to wind or bad weather conditions. It could potentially be dangerous to leave a damaged tree in a position in which it can pose a safety threat to people. Another really big reason that you may need a tree removed is if the plant's roots have grown into areas of the home's foundation or structure. This should also be dealt with post haste as expanding roots can cause settling problems and can actually threaten the integrity of the home. You can avoid the hassle of these common issues by calling us to come out and assess the situation as soon as possible.
We are always happy to give you a free estimate on complete tree removal service as well as any other services you may be in need of. We have all of the proper equipment to perform large or small jobs and we always make sure to clean up branches and debris when we are done. Once the tree has been removed, we can also grind the stump as well to complete the process. We look forward to adding you to our family of satisfied customers and we know you will not be sorry that you contacted us!
For your free tree removal estimate
Call us today at 479-361-0604
We provide tree removal in Springdale AR and the surrounding areas.