stump removal is a tricky thing for any homeowner to deal with. While one may be tempted to take on this task by themselves, we advise against it. If the removal is not done correctly, you can run into problems. So the better way to go is to hire us as your tree service provider. Our extensive experience makes this task a breeze and you can have the unwanted stump out of your hair and off your property quicker than you may think.
For a fast and hassle-free
stump removal
estimate
Please call us today at 479-361-0604
It is much less expensive and a great deal less stressful to hire us to remove a stump instead of messing with dangerous equipment and high rental costs:
Our years of experience give us the know-how to handle a job like stump removal efficiently. We already have all of the equipment needed so there are no extra rental fees.
We are licensed, bonded and insured so there are no worries that the job will be handled in an amateur or haphazard manner.
We will come out and give you a free estimate on the cost of your removal as well as tree removal and a bunch of other services.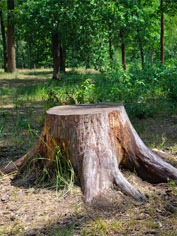 Many California residents think that they can get rid of an unwanted tree or tree stump on their own without the help of a licensed professional. While this is definitely possible, it is not advisable. There are a few things that can get in the way of proper stump removal and by hiring us as your preferred contractor, you are assured to not run into unnecessary complications. We also provide tree removal services as well as stump removal, so if you have a tree that needs to go, we can handle the whole job from start to finish.
A word of caution; do not try and remove a tree stump by attaching it to the back of a vehicle or pick-up truck. If the stump is too large, or the roots are deeper than you think you can run into serious problems. The bumper of the vehicle can be pulled off very easily and that will result in expenses far beyond hiring us to perform the stump removal. Dealing with the cutting down of trees and the grinding or removal of stumps is something that we deal with everyday. We have the latest equipment and grinders needed to handle the task very quickly. You will not have to worry about unnecessary disturbance of your lawn or nearby landscaping as we can assess exactly where and how to do the job with the least ruckus.
Another option that some homeowners may try is to rent a stump grinder on their own. Unfortunately, some companies can take advantage of the naiveté of the homeowner and overcharge for the rental or provide equipment that may not be powerful enough for your particular stump removal job. By hiring us as your tree service contractor, you can avoid all of this guesswork as we can implement this task in a way that won't disrupt your lifestyle and hectic schedule. We are very affordable as well and the job will most likely cost much less that you think. We provide a free consultation as well, so that you will know what you will need to pay before we start the job.
To quickly arrange your stump removal
Call us as soon as possible for your free consultation at 479-361-0604
We provide stump removal in Springdale AR and the surrounding areas.