Tree care is a service we offer to both residential and commercial clients. We can service homeowners, homeowners associations, schools, offices, parks and apartment and condo complexes. All of our employees are highly trained and will know how to handle jobs for residential homeowners as well as business owners. We are locally owned and operated as well, so we know the area well and can provide service in several communities.
We can help with all of your
tree care
needs
Please call us today for your free estimate at 479-361-0604
Tree care is a very important part of maintaining your landscape and property. We are always here to answer your questions and will find a solution for most issues you can think of:
We have a proven track record in the Springdale AR area. We have several testimonials from satisfied customers all over and we would love to add you to that list.
We are licensed, insured and bonded so you can be sure that all of your tree care needs are handled with expert care and integrity.
Our free consultations are a great way for you to get an estimate on how much your service may cost. We make every effort to provide low-cost and dependable assistance to you as our client.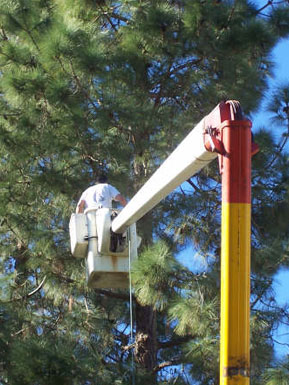 Proper tree care is a key element in maintaining your property's landscape. By taking care of your trees and shrubs on an ongoing basis, you add curb appeal to your home and it also helps to show your pride of ownership. We offer a great array of services such as tree lacing, tree trimming, root pruning and tree removal. This is just a small example of the types of jobs we can handle. We have been in the tree care business for a long time, and there should be no job too big or too small for our trained staff to handle. A common misconception is that trees, shrubs and landscaping just take care of themselves. We know that you have probably put a large amount of time and effort into making your property look great, so we want to help you maintain that level of maintenance. Regular tree trimming and shrub pruning is an easy way to keep everything in the best shape it can be. We can implement a wide array of simple, yet effective techniques to enhance your property's value as well as its aesthetic. When you hire us as your contractor, we believe you will be pleasantly surprised at how simple and streamlined our processes are.
Sometimes you may encounter a tree care emergency. A bad thunderstorm can wreak havoc on landscaping and even lightning can strike one of your trees in rare instances. We offer emergency service for situations that may threaten you and your loved ones' safety or may threaten the integrity of your home. We also offer consultations on almost every service you can think of. We make every effort to offer low cost options for every budget and every circumstance. When you contact us for a free estimate, we will go over in detail all of the services we think you need and all of the services we will provide. Our staff makes every effort to be courteous and respectful and we also take care to not damage your property in any way when providing services such as tree removal or stump grinding.
For a hassle-free consultation on any tree care
Call us as soon as possible for your estimate at 479-361-0604
We provide tree care in Springdale AR and the surrounding areas.